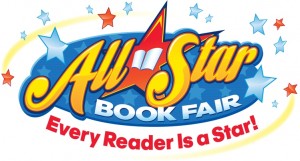 I hope you enjoyed our first Book Fair at England last week!  It was a busy time in the library and we were thrilled to see so many students and families selecting and purchasing books for their home libraries!  We love to see students get excited over books!
Of course, an added benefit to our Book Fair is that it is a big fundraiser for the library. This Book Fair helped us to add new books to our library, donate sets of novels to the Literacy Library, build up our supply of paperback books to give away as prizes, AND we were able to raise almost $2500 in cash for the library program!
Thank you so much for buying books at the Book Fair and supporting our awesome school and library!