**UPDATE: This giveaway is now closed. Congratulations to our THREE winners, CHASE P., HAYDEN M., and SHIVALI S.! Chase, Hayden & Shivali, I'll deliver your winning book to you during the first few weeks of school.**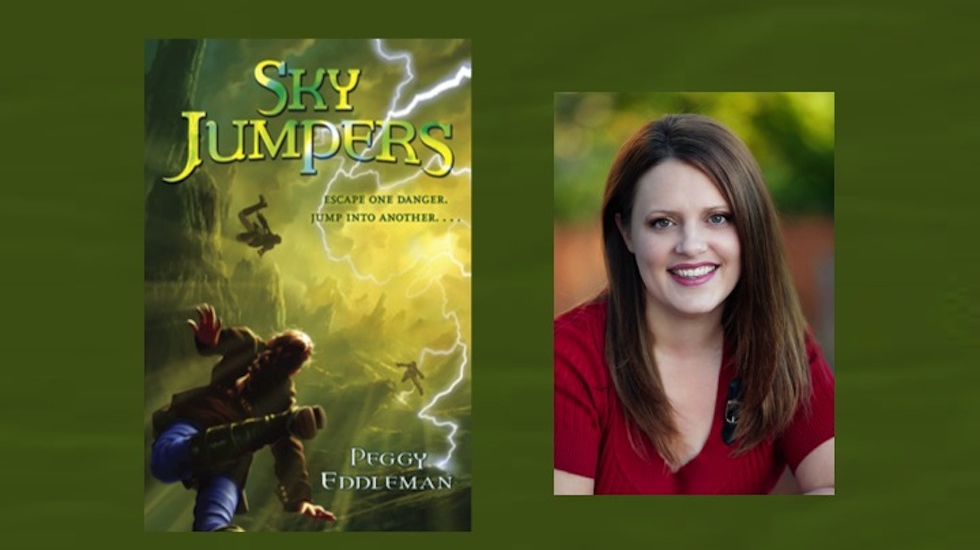 YOU can win a free AUTOGRAPHED copy of
Sky Jumpers by Peggy Eddleman!
Ms. Eddleman visited our 3rd, 4th, and 5th graders this past November, and I saved a few of her autographed copies of Sky Jumpers to give away this summer in our Library Giveaways! Sky Jumpers was a Bluebonnet book this past year, and her visit to England was a memorable and wonderful event! (Psst – I have more than 1 book to give away!)
"Twelve-year-old Hope lives in White Rock, a town of inventors struggling to recover from the green bombs of World War III. But Hope is terrible at inventing and would much rather sneak off to cliff dive into the Bomb's Breath—the deadly band of compressed air that covers the crater left by the bombs—than fail at yet another invention. When bandits discover that White Rock has priceless antibiotics, they invade. With a two-day deadline to finish making this year's batch and no ingredients to make more, the town is left to choose whether to hand over the medicine and die from the disease that's run rampant since the bombs, or die fighting the bandits now. Help lies in a neighboring town, but the bandits count everyone fourteen and older each hour. Hope and her friends Aaren and Brock might be the only ones who can escape to make the dangerous trek through the Bomb's Breath and over the snow-covered mountain. For once, inventing isn't the answer, but the daring and recklessness that usually get Hope into trouble might just save them all."
This book is 288 pages long and the suggested age range is 8-12 years old.
While you're waiting to see if you've won, check out the Book Trailer below or visit the Sky Jumpers Extras website!
---
Here's how to enter this giveaway:
1.  Visit the England Library blog between now and when the contest closes (Sunday evening, August 14th).
2.  Write a comment on THIS post.  Your comment should include your FIRST NAME, LAST INITIAL, what GRADE you're going to be in NEXT year, and a message for Mrs. Kupersztoch!  Do not leave any other personal information in your comment!  Do not post your e-mail address. Only one entry per student will be accepted, and only England Elementary students are eligible to participate.  Every comment has to be approved in order to appear on the website, so if you don't see your comment right away, don't worry!
3.  After the contest closes, I will choose a comment at random and that student will receive the giveaway prize!  The winner will be announced as an update at the top of this post and the prize book will be waiting for the winning student in August!