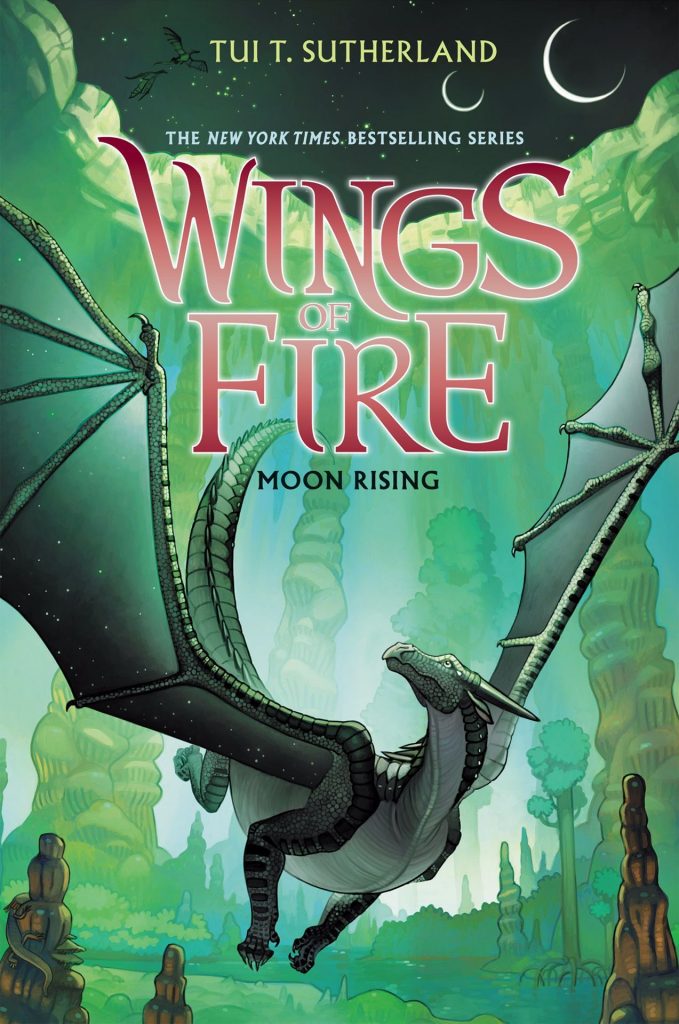 YOU can win a free copy of Wings of Fire: Moon Rising (#6) by Tui T. Sutherland!
From the publisher:
"Peace has come to Pyrrhia… for now.
The war between the tribes is finally over, and now the dragonets of the prophecy have a plan for lasting peace: Jade Mountain Academy, a school that will gather dragonets from all the tribes and teach them to live together, perhaps even as friends.
Moonwatcher isn't sure how she feels about school, however. Hidden in the rainforest for most of her life, the young NightWing has an awful secret. She can read minds, and even see the future. Living in a cave with dozens of other dragons is noisy, exhausting — and dangerous.
In just a few days, Moon finds herself overwhelmed by her secret powers and bombarded by strange thoughts, including those of a mysterious dragon who might be a terrible enemy. And when someone starts attacking dragons within the academy, Moon has a choice to make: Stay hidden and safe? Or risk everything to save her new friends?"
This book is 336 pages long and the suggested age range is 8-12 years old.

Here's how to enter this giveaway:
1.  Visit the England Library blog and write a comment on THIS post. Your comment should include your FIRST NAME, LAST INITIAL, what GRADE you're going to be in NEXT year, and a message for Mrs. Kupersztoch!
Do not leave any other personal information in your comment!  Do not post your e-mail address. Only one entry per student will be accepted, and only England Elementary students are eligible to participate.  Every comment has to be approved in order to appear on the website, so if you don't see your comment right away, don't worry!
2.  After the contest closes, I will choose a comment at random and that student will receive the giveaway prize!  The winner will be announced as an update at the top of this post and the prize book will be waiting for the winning student in August!