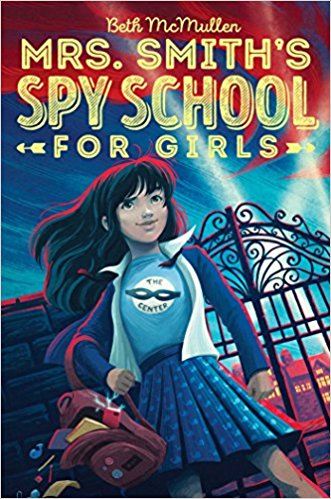 YOU can win a free ADVANCED READER'S copy of Mrs. Smith's Spy School for Girls by Beth McMullen!
*It won't officially be published until July 4th!*
From the publisher:
"A girl discovers her boarding school is actually an elite spy-training program, and she must learn the skills of the trade in order to find her mother in this action-packed middle grade debut.
After a botched escape plan from her boarding school, Abigail is stunned to discover the school is actually a cover for an elite spy ring called The Center, along with being training grounds for future spies. Even more shocking? Abigail's mother is a top agent for The Center and she has gone MIA, with valuable information that many people would like to have—at any cost. Along with a former nemesis and charming boy from her grade, Abigail goes through a crash course in Spy Training 101, often with hilarious—and sometimes painful—results. But Abigail realizes she might be a better spy-in-training than she thought—and the answers to her mother's whereabouts are a lot closer than she thinks…"
This book is 304 pages long and the suggested age range is 9-13 years old.

Here's how to enter this giveaway:
1.  Visit the England Library blog and write a comment on THIS post. Your comment should include your FIRST NAME, LAST INITIAL, what GRADE you're going to be in NEXT year, and a message for Mrs. Kupersztoch!
Do not leave any other personal information in your comment!  Do not post your e-mail address. Only one entry per student will be accepted, and only England Elementary students are eligible to participate.  Every comment has to be approved in order to appear on the website, so if you don't see your comment right away, don't worry!
2.  After the contest closes, I will choose a comment at random and that student will receive the giveaway prize!  The winner will be announced as an update at the top of this post and the prize book will be waiting for the winning student in August!