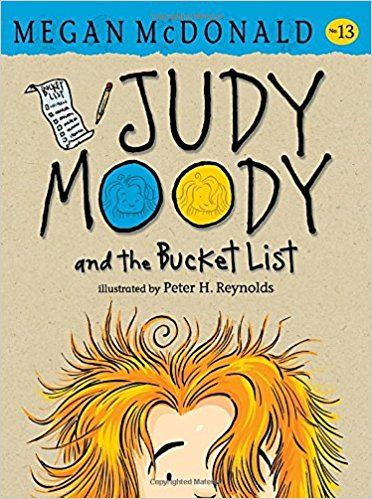 YOU can win a free copy of Judy Moody and the Bucket List by Megan McDonald!
From the publisher:
"Drumroll, please: Judy Moody is about to become a poop-scooping, hinny-riding, one-girl band extraordinaire as she takes on her very own Bucket List.
Judy is visiting Grandma Lou one day when she accidentally finds an uber-mysterious list of activities — a Bucket List! Which gives Judy an idea: How rare would it be if she made her own way-official bucket list of all the things she wants to do—before she starts fourth grade? Pretty soon Judy is off and running trying to cross off all her items: learn to do a cartwheel, invent something rad, go to Antarctica (the real one), ride a horse—the list goes on. But what happens if Grandma Lou achieves everything on her list? Does that mean she'll be ready to . . . kick the bucket?"
This book is 176 pages long and the suggested age range is 6-9 years old.

Here's how to enter this giveaway:
1.  Visit the England Library blog and write a comment on THIS post. Your comment should include your FIRST NAME, LAST INITIAL, what GRADE you're going to be in NEXT year, and a message for Mrs. Kupersztoch!
Do not leave any other personal information in your comment!  Do not post your e-mail address. Only one entry per student will be accepted, and only England Elementary students are eligible to participate.  Every comment has to be approved in order to appear on the website, so if you don't see your comment right away, don't worry!
2.  After the contest closes, I will choose a comment at random and that student will receive the giveaway prize!  The winner will be announced as an update at the top of this post and the prize book will be waiting for the winning student in August!