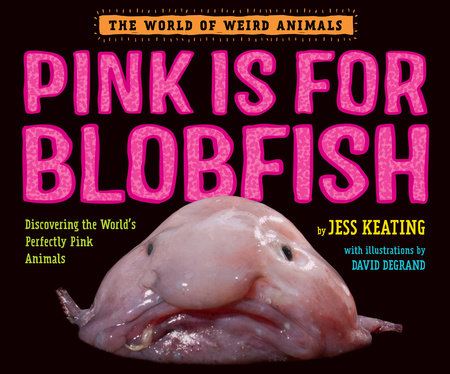 YOU can win a free copy of Pink is for Blobfish by Jess Keating!
This book is 48 pages long and the suggested age range is 5-8 years old.
From the publisher:
"Pinkalicious meets National Geographic in this nonfiction picture book introducing the weirdest, wildest, pinkest critters in the animal kingdom!
Some people think pink is a pretty color. A fluffy, sparkly, princess-y color. But it's so much more.
Sure, pink is the color of princesses and bubblegum, but it's also the color of monster slugs and poisonous insects. Not to mention ultra-intelligent dolphins, naked mole rats and bizarre, bloated blobfish.
Isn't it about time to rethink pink?
Slip on your rose-colored glasses and take a walk on the wild side with zoologist Jess Keating, author of How to Outrun a Crocodile When Your Shoes Are Untied, and cartoonist David DeGrand."
While you're waiting to see if you've won the giveaway, check out the book trailer!

Here's how to enter this giveaway:
1.  Visit the England Library blog and write a comment on THIS post. Your comment should include your FIRST NAME, LAST INITIAL, what GRADE you're going to be in NEXT year, and a message for Mrs. Kupersztoch!
Do not leave any other personal information in your comment!  Do not post your e-mail address. Only one entry per student will be accepted, and only England Elementary students are eligible to participate.  Every comment has to be approved in order to appear on the website, so if you don't see your comment right away, don't worry!
2.  After the contest closes, I will choose a comment at random and that student will receive the giveaway prize!  The winner will be announced as an update at the top of this post and the prize book will be waiting for the winning student in August!