**UPDATE: This giveaway is now closed. Congratulations to our winner, HANNAH D. in 3rd grade! Hannah, I'll deliver your winning book to you during the first few weeks of school.**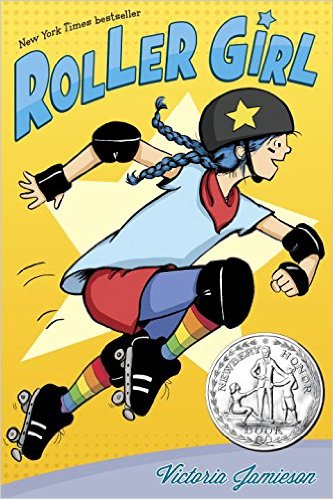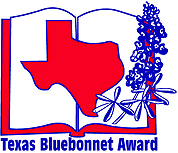 YOU can win a free copy of Roller Girl by Victoria Jamieson- one of this year's Texas Bluebonnet Award Books!!!
"For most of her twelve years, Astrid has done everything with her best friend Nicole. But after Astrid falls in love with roller derby and signs up for derby camp, Nicole decides to go to dance camp instead. And so begins the most difficult summer of Astrid's life as she struggles to keep up with the older girls at camp, hang on to the friend she feels slipping away, and cautiously embark on a new friendship. As the end of summer nears and her first roller derby bout (and junior high!) draws closer, Astrid realizes that maybe she is strong enough to handle the bout, a lost friendship, and middle school… in short, strong enough to be a roller girl.
In this graphic novel debut that earned a Newbery Honor and five starred reviews, real-life derby girl Victoria Jamieson has created an inspiring coming-of-age story about friendship, perseverance, and girl power!"
This graphic novel is 240 pages long and the suggested age range is 9-12 years old.
While you're waiting to see if you've won, check out other books on the 2016-17 Texas Bluebonnet Award List, and watch the book trailer below!
---
Here's how to enter this giveaway:
1.  Visit the England Library blog between now and when the contest closes (Sunday evening, August 7th).
2.  Write a comment on THIS post.  Your comment should include your FIRST NAME, LAST INITIAL, what GRADE you're going to be in NEXT year, and a message for Mrs. Kupersztoch!  Do not leave any other personal information in your comment!  Do not post your e-mail address. Only one entry per student will be accepted, and only England Elementary students are eligible to participate.  Every comment has to be approved in order to appear on the website, so if you don't see your comment right away, don't worry!
3.  After the contest closes, I will choose a comment at random and that student will receive the giveaway prize!  The winner will be announced as an update at the top of this post and the prize book will be waiting for the winning student in August!