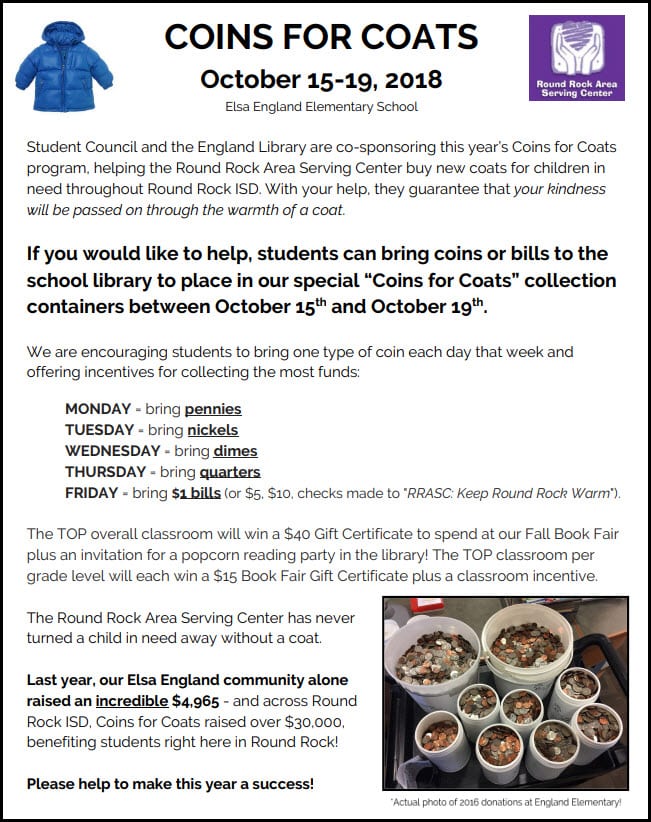 Student Council and the England Library are co-sponsoring this year's Coins for Coats program, helping the Round Rock Area Serving Center buy new coats for children in need throughout Round Rock ISD. With your help, they guarantee that your kindness will be passed on through the warmth of a coat.
If you would like to help, students can bring coins or bills to the school library to place in our special "Coins for Coats" collection containers between October 15-19, 2018. 
We are encouraging students to bring one type of coin each day that week and offering incentives for collecting the most funds:
MONDAY = bring pennies
       TUESDAY = bring nickels
       WEDNESDAY = bring dimes
       THURSDAY = bring quarters
        FRIDAY = bring $1 bills (or $5, $10, checks made to "RRASC: Keep Round Rock Warm").
The TOP overall classroom will win a $40 Gift Certificate to spend at our Fall Book Fair plus an invitation for a popcorn reading party in the library! The TOP classroom per grade level will each win a $15 Book Fair Gift Certificate plus a classroom incentive.
The Round Rock Area Serving Center has never turned a child in need away without a coat.
Last year, our Elsa England community alone raised an incredible $4,900+ – and across Round Rock ISD, Coins for Coats raised over $30,000 in all, benefiting students right here in Round Rock!
Please help to make this year a success!