**UPDATE: This giveaway is now closed. Congratulations to our winner, SHRUTHI S. in 4th grade! Shruthi, I'll deliver your winning book to you during the first few weeks of school.**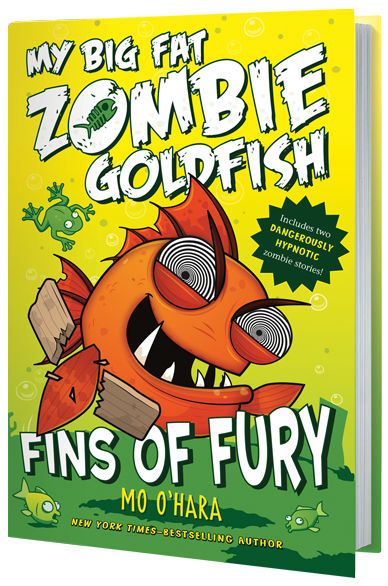 YOU can win a free copy of Fins of Fury – the 3rd book in the My Big Fat Zombie Goldfish series by Mo O'Hara!!!
"When Tom zapped Frankie the goldfish back to life with a battery, he certainly didn't expect him to become a BIG FAT ZOMBIE GOLDFISH with incredible hypnotic powers. But it turns out that a zombie goldfish is a great pet to have on your side when your big brother is an evil scientist whose plans need to be thwarted.
There's something fishy going on in the woods, as Tom and his best friend Pradeep take Frankie on a camping adventure. Could the Beast of Burdock Woods be real?
Then, something weird is going on with Mark. He's actually being . . . nice! Meanwhile, paranormal pets (including a teleporting tortoise, a mostly invisible poodle, a levitating budgie, and a vampire kitten) are missing all over town. Can Tom and Pradeep find out what's going on before Frankie disappears?"
This book is 224 pages long and the suggested age range is 7-10 years old.
While you're waiting to see if you've won, check out the author's website for some fun ZOMBIE activities and downloads!
---
Here's how to enter this giveaway:
1.  Visit the England Library blog between now and when the contest closes (Sunday evening, August 21st).
2.  Write a comment on THIS post.  Your comment should include your FIRST NAME, LAST INITIAL, what GRADE you're going to be in THIS year, and a message for Mrs. Kupersztoch!  Do not leave any other personal information in your comment!  Do not post your e-mail address. Only one entry per student will be accepted, and only England Elementary students are eligible to participate.  Every comment has to be approved in order to appear on the website, so if you don't see your comment right away, don't worry!
3.  After the contest closes, I will choose a comment at random and that student will receive the giveaway prize!  The winner will be announced as an update at the top of this post and the prize book will be waiting for the winning student in August!